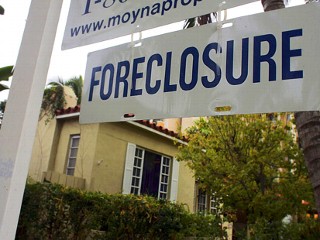 We keep hearing bluster about how the economy is recovering. Bluster. Let's see, there was that announcement about job creation and the unemployment rate dropping to 8.9%. Of course, in the midst of the trumpets and hallelujah choruses there was the note that the reason for the drop was not the "job creation", rather it was the number of people who quit looking for work basically cooking the numbers for the Obama Administration.
Well gosh, guess what we found yesterday? Would you believe housing news? Yep. Let me provide a tad of recent history. Last month we got a trumpet concert because housing sales were up. The Administration and the National Association of Idiots Realtors were howling at the moon about an increase in sales. Well, here's the other side of the coin, courtesy of Associated Press.
Underwater mortgages rise as home prices fall
Underwater mortgages rise as home prices hit post-bust lows in 11 of 20 major US cities
Nice headline, huh? And, that's the most optimistic part of the story.
About 11.1 million households, or 23.1 percent of all mortgaged homes, were underwater in the October-December quarter, according to report released Tuesday by housing data firm CoreLogic. That's up from 22.5 percent, or 10.8 million households, in the July-September quarter.

The number of underwater mortgages had fallen in the previous three quarters. But that was mostly because more homes had fallen into foreclosure.
I'm sensing a trend here. Unemployment is down, perceived as a good thing, except the real reason it's down is people have quit looking for work. Underwater mortgages are down, except the real reason is more homes in foreclosure. I wonder what the next story about gas prices will be.
Well, I don't know about gas prices, but I do know a thing or two about the housing market and when you read the next paragraph, please keep the following in mind: no matter what you hear, houses in major real estate markets – CA, AZ, FL – are still overpriced by about 25%. There is a current inventory listed on MLS in these markets of 10+ months, a "typical" inventory would look more like five months. In addition to the current MLS listings, lenders are holding about the same number of homes in their Real Estate Owned (REO) inventories that are not listed. And then there are those houses where a notice of default has been issued to the homeowner – the first step in the foreclosure process – and that's another 1 to 2 times the current MLS inventory. Bottom line, in the major markets the inventory is more like three years of current sales. Prices have a long way to fall folks.
The one story that simply amazes me is the buoyancy in consumer confidence.
The Conference Board Consumer Confidence Index®, which had increased in January, improved further in February. The Index now stands at 70.4 (1985=100), up from 64.8 in January. The Present Situation Index improved to 33.4 from 31.1. The Expectations Index increased to 95.1 from 87.3 last month.
For the life of me I can't rationalize those numbers without resorting one of the following:
A dramatic increase in alcohol sales.
Gross stupidity.
Consumers patently ignoring what's going on in the real world.
All of the above.
I'm hearing lots of people saying "buy gold" or "buy silver". Personally, my recommendation is "buy ammunition". Things are going to get a whole lot worse before they get better. A LOT worse.
********************************************************
UPDATE 3/10 7:42am mst
With a HT to Instapundit, from the Washington Business Journal…
Bank of America Corp. is segregating almost half its 13.9 million mortgages into a "bad" bank comprised of its riskiest and worst-performing "legacy" loans, Bloomberg News reported, citing Terry Laughlin, who is running the new unit.
13.9MM "bad" loans. Don't expect very many of these to be cured. Feel free to add these 13.9MM properties into the housing inventory total.
********************************************************
Related articles by Zemanta: