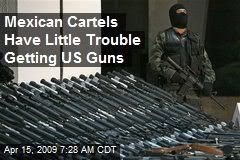 After blaming violence in Mexico on "loose US firearms" laws, turns out the Obama administration may in fact be responsible for more than their media allies give them credit for;
(CBS News) WASHINGTON – Federal agent John Dodson says what he was asked to do was beyond belief.
He was intentionally letting guns go to Mexico?

"Yes ma'am," Dodson told CBS News. "The agency was."

An Alcohol, Tobacco and Firearms senior agent assigned to the Phoenix office in 2010, Dodson's job is to stop gun trafficking across the border. Instead, he says he was ordered to sit by and watch it happen.

Investigators call the tactic letting guns "walk." In this case, walking into the hands of criminals who would use them in Mexico and the United States.
Dodson knew it wouldn't end well, and as it turned out, it didn't;
On Dec. 14, 2010, Border Patrol Agent Brian Terry was gunned down. Dodson got the bad news from a colleague.

According to Dodson, "They said, 'Did you hear about the border patrol agent?' And I said, 'Yeah.' And they said 'Well it was one of the Fast and Furious guns.' There's not really much you can say after that."

Two assault rifles ATF had let go nearly a year before were found at Terry's murder.

Dodson said, "I felt guilty. I mean it's crushing. I don't know how to explain it."
The Obama administration has been quick to pin the blame for Mexico's increasing gun violence on lax US gun laws. In fact, as late as yesterday in front of Mexican President Filipe Calderon, Obama said;
…he believes that the Second Amendment protects Americans' right to bear arms – but added that it doesn't mean that the government can't work to keep guns from being sent to Mexico, where a violent drug war rages.

"The Second Amendment in this country is part of our Constitution and the president of the United States is bound by our Constitution," he said. "So I believe in the Second Amendment. It does provide for Americans the right to bear arms for their protection, for their safety, for hunting, for a wide range of uses. That does not mean that we cannot constrain gun runners from shipping guns into Mexico."
CBS News has this video, and be sure to check out this one as well;
Does "disingenuous" relate at all?
[UPDATE] More information comes out in the shooting death of Border Agent Brian Terry. Not only was he killed with an AK-47 that was allowed to sneak into the drug cartel's hands by the Obama administration, but murdered Agent Terry was forced to initially use only bean bag rounds as part of a idiotic and senseless rules of engagement ordered by that same administration;
"When the suspected aliens did not drop their weapons, two Border Patrol agents deployed 'less than lethal' beanbags at the suspected aliens," according to a FBI search warrant request filed in the U.S. District Court in Tucson on Dec. 29. "At this time, at least one of the suspected aliens fired at the Border Patbrol agents. Two Border Patrol agents returned fire, one with his long gun and one with his pistol. Border Patrol agent Brian Terry was shot with one bullet and died shortly after."
The warrant appears to support claims made by Terry's brother, Kent, and former U.S. Rep. Tom Tancredo that Terry's team — part of the U.S. Border Patrol Tactical Unit, also known as BORTAC — was under standing orders to always use bean-bag rounds first before using live ammunition.
[UPDATE 2] American Thinker has a post up by T.L. Davis with more info on ATF Agent John Dodson, who came forward again to CBS News refuting ATF's denials that "…ATF 'sanctioned' or otherwise knowingly allowed the sale of assault weapons to a straw purchaser who then transported them into Mexico-is false."
Choked with emotion, he told CBS's Sharyl Attkisson, "I'm boots on the ground in Phoenix and it has been going on every day that I've been here." Dodson was obviously moved by the death of Customs and Border Protection Agent Brian Terry, who was murdered with one such weapon on December 14, 2010.

It was shortly after Agents such as Dodson realized that the murder weapon had been involved in what critics call Project Gunwalker that posts began to show up on the ATF watchdog website CleanUpATF.org. In professing his own sense of guilt, Dodson revealed his motivation for coming forward now, without disguise. "Here I am," Dodson said. "Tell me I didn't do the things I did. Tell me you didn't order me to do the things I did." With that he made it clear that the cover up being attempted by the Bureau would not prevail.
More-